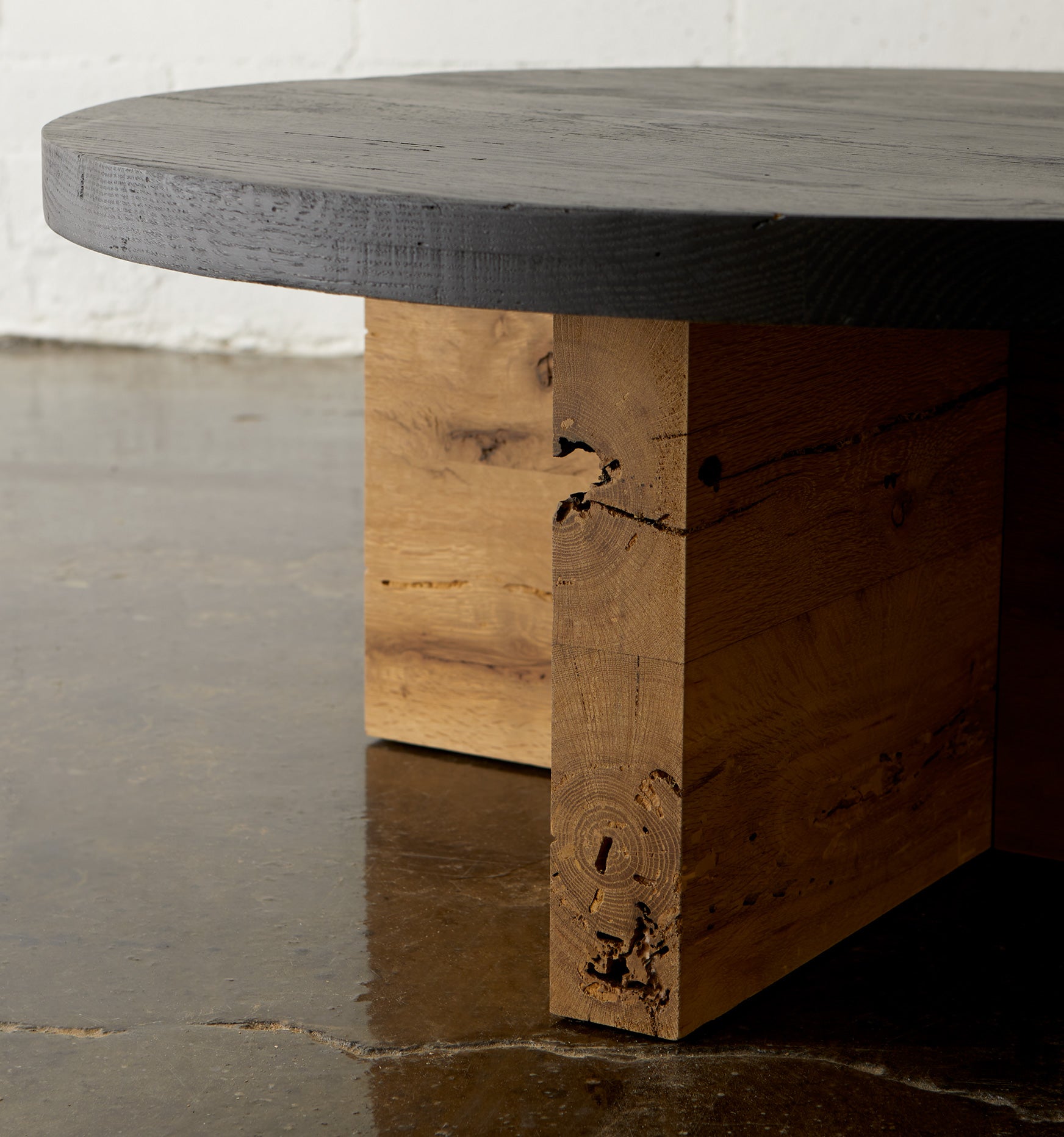 questions are a part of life...
Maintenance
You purchased a dripped-out piece and you want the oohs and ahhs to keep coming. Here's how...
We recommend cleaning our products with either warm water and a gentle soap, or a cleaner that is safe for wood products like a Rubio wood cleaner, method wood cleaner or a natural cleaner.  Do not use a harmful chemical product or any bleach or it will strip the finish from the wood.  Everything we use is water based or a hardwax oil base. 
Shipping & Order Status
We are living in a world of instant gratification nowadays and we get it! Patience is a virtue.
Depending on the schedule of our shop and what projects we have going on, you can place a rush order.  The rush orders are at the discretion of our Project Manager and they make the decisions on when it's available.  A standard rush of your order comes with a fee of 20% of the subtotal of your order for us to accommodate this request.
All furniture items arrive to your doorstep fully assembled. 
With custom projects from our glamorous lumber yard, we are masters on all projects and this is only something that can be done at our shop. Thus you also benefit from full assembly with lots of love.
Accent wall materials are DIY for your inner artisan!
Returns
You don't want to return a Ross Alan piece! They are handcrafted with family heirlooms in mind.
For more information on returns, please refer to our Terms & Conditions and Return policies at the footer of our website.
Barn Wood
Reclaimed wood is the name of our game, being sustainable is no shame!
Most of our barn wood comes from old barns dating back to the 1800's, mostly in the Midwest region of the United States.  We also salvage old corral fencing and structures from the upper region of the United States.  In the past couple years we started venturing into old European buildings which have dated back as far as the 1600's.  This isn't the common structure of what we are used to, but we love the history of these old buildings and the new life that we can bring to this vintage wood!
We do not treat the wood with anything.  All of our wood is kiln dried to be sure the moisture content is consistent for building with and being sure there are no creepy crawlies in the wood.  For our finished products, depending on what the item is, we use furniture sealers that are little to zero VOC's, so you can be sure that you and your loved ones will be safe.  For our tables, we use a Rubio Monocoat which is a plant based zero VOC product.  Because of this, be sure not to ever use harmful cleaners to clean your products.  We have a list of recommended products as well as selling a safe Rubio wood cleaner which is available online.  
If you order a finished product from us (furniture item), there will never be any splinters. Each item gets sanded down very fine several times and goes through a finishing process of where it gets up to 5 coats of sealer on it.  Before it leaves our facility, it goes through a thorough quality inspection to be sure it arrives to you with this standard.
If you are ordering a raw product (accent wall material), it may have an occasional splinter here or there, but we do our best to be sure it is sanded down on the edges and backs as much as possible.  
The romancer in Ross and Georgie wish they could do it all, but the reality is that they are raising their three children and the demands of a busy company keep them from doing this.  They have made very strong relationships with the men and women who salvage these old structures which have become safety hazards.  They only work with a few people throughout the country and have established a strong presence in the reclaimed wood world by the integrity that they have shown.
We are very picky about the wood we choose to bring into our facility for a multitude of reasons.  First, certain areas of the country are known to have too many bugs that crawl into the wood.  We try to avoid these areas as much as possible.  Also, when we bring wood in, we bring wood in that is up to our standards as well as the overall design direction we are going in, so we always make sure it works well with the products we are trying to create.  We are always open to what people have and helping this planet to stay as green as possible with reusing and recycling as much as we can. Feel free to contact us at info@rossalanreclaimed.com with pictures as well as the total board footage of material and we will get right back to you or help you to find a place to properly recycle so it doesn't go into the landfill!
No.  Sometimes there are bugs known as powder post beetles that bore into the wood.  Usually when our wood goes through the kiln drying process it takes care of anything that could have crawled into it at one point.  Occasionally, there is one in there that somehow survived the harsh heat of the kiln.  A simple borax treatment and also some other treatments will take care of it immediately.  We always pick choice boards and are careful to avoid these things, but we are humans and not robots making furniture so sometimes a little stinker makes its way in.  Powder post beetles are not harmful to the wood like termites would be.  Also, all of our wood is mostly Midwest barns and between the cold winter months and the hot humid summer months, anything that would have tried to make a home inside the wood, leaves. 
This is a loaded question.  Yes and no.  Some wood is totally acceptable for being used on the exterior, like accent wall materials and paneling (if the option is available for exterior, it is noted and we will give you that option).  For furniture pieces, we do not recommend any of our product to be outside and exposed to exterior elements.  They are all designed consciously for indoor usage.  However, if you choose to keep them outside, whether that be under a covered patio, keep in mind that it will age significantly quicker than normal and you will be liable for any splitting, cracking or discoloration that the product will take on.  Through our custom department, we offer some options for exterior furniture pieces that are not available online.  If you would like to inquire about a custom job, please contact us at info@rossalanreclaimed.com and we will let you know your options to help your vision come to life!
If you have ordered any flooring or wood paneling, we recommend that you let it acclimate to any environment that it goes into.  Even though it is old dense wood we are working with, it's important to keep in mind that we took this wood out of its element and have put fresh cuts to the wood, exposing it to a new environment.  We recommend at least a week, but two weeks is always ideal before installing.  If you have ordered engineered flooring, it has less restrictions than solid wood, but we still suggest you do so.  It is also key to keep the humidity and temperature control in your home whenever you put any wood products of any sort in your home.  This will help from allowing the wood to flex too much which could cause separation and cracking in certain areas. 
Design & Aesthetics
Go ahead and be picky! We are too!
Depending on the product, we use different finishing techniques.  For tables (dinner tables and coffee tables), we use Rubio Monocoat for the color.  We usually finish with about 4 to 5 coats of a water based zero to low VOC's polyurethane.  Same with Chairs and stumps. For beams and mantles, we do the same, but only a couple coats of a sealer on the exterior since they don't get used on a daily basis.  For vanities and cabinetry we also use several coats of a sealer on them.  Always water-based matte finish.  If you want to have an alternative sheen to your product with a satin, semi-gloss or gloss finish, that would be something to also go through our custom department to achieve the finish you want and desire for your project.  Please contact Ross Alan Design at info@rossalanreclaimed.com
We do not use harsh chemicals of any sort on our products.  Everything is zero to low VOC's through federal standards.  We have a couple alternative options for people who have auto-immune disorders that need to be sure there are zero VOC's in any product.  In order to properly seal a table and keep it from staining, and holding up through the years, we do like to use a water-based polyurethane.  We use mostly Rubio Monocoat to use for shading and coloring and also finishing certain products.  With table tops specifically, we recommend a water based sealer due to the natural wear and tear a table has as far as daily use.  If you opt to not have it finished with a water-based sealer, it is important to keep in mind that a natural finish (like a wax or hardwax oil), will not hold up on the finish as long as a water-based finish will.  It will need to be maintained to keep its appearance through the years. 
Due to the nature of reclaimed wood products and the age of the old growth wood we are using, we do not color match. We have a list of colors that we can stain each piece with, but we do not match.  Also keep in mind that wood is a raw material and depending on whether it is sapwood or heartwood, the color may slightly change depending on this.  We always let our customers know that there is about a 10% slight variation in color and tone.
We work with a lot of designers, contractors and builders.  To find out about our trade options and discounts, this can be handled by a team member and seeing what is available to you.  Please email us at marketing@rossalanreclaimed.com
We cannot avoid knotholes.  That being said, we have an awesome crew of very experienced artisans and craftsmen that are very aware of aesthetics and design.  When a knothole is present, we are very conscious  to make sure it flows properly with what is going on in the overall design of the piece, so it will never be a distraction to the eye. 
Custom Installation
You can do it, you can do it!
All of our accent wall cladding and exterior paneling come in consistent face sizes and thickness so it helps with ease of placement.  Installing the wood planks is fairly easy for the everyday DIYer, but in most cases, people choose to have a sub contractor install them.  If you are a person who likes to get your hands dirty, well then, this is perfect for you! 
The first and most important step in the process is setting your straight line at the top.  We recommend a chalk line reel and using a leveler to be sure it is perfectly straight.  After your line is set, the fun begins.  Remember safety first at all times (goggles, masks, gloves, etc.).
For interior applications, you need a tape measure, liquid nails, a brad nailer (18 gauge), and a compound saw for end cuts.  The wood we give you comes perfectly squared off, so you only need to cut the ends. If you have a combination of 3-½" & 5" faces, just be sure that you stick in the same size for that specific row.  For example, if you are using a row with 5" faces, be sure all of them the whole length are 5" pieces or you will deal with some very large gapping.  
Before cutting, be sure you measure twice and cut once (greatest woodworking rule of all time)!  Once you have measured and cut and are ready to put up on the wall, put a decent amount of glue on the backside of the board.  The glue is going to be the main binding agent for keeping it up, the nails are only there to hold into place until the glue dries.  So it is important to put enough glue, but not too much that it is seeping out from the cracks.  Once the plank is up on the wall, it only takes a few nails (corners are most important) to keep it in place.  Repeat until your wall is finished.  Keep in mind, it is a giant art piece, so make sure you have fun with it!  Don't overthink it, or you will drive yourself crazy! 
For exterior applications, it's the same as the above, but instead of a brad nailer, we recommend a ring shank nail and exterior liquid nails or heavy duty liquid nails.  A lot of people opt to seal the backsides of the boards before applying to exterior applications because it allows for a great moisture barrier with the wood, depending on the region you live in.  Keep in mind that exterior paneling is thickener than interior, so you will need longer nails.  
Finally, when your wall is complete, you can seal the boards if you choose.  It is not necessary, but if it is for exterior usage, just keep in mind that the wood will continue aging if not sealed properly.  Some people want that, and others want to keep it looking fresh and clean.  If you do use a sealer, we recommend a water based polyurethane.  If it is for exterior, use a spar polyurethane or a sealer that helps with UV protection and outside elements.
If you like an item on our website, but its dimensions do not suit the needs of your project, you can contact our Ross Alan custom design team at info@rossalanreclaimed.com and they will get you a quote and lead time. We try our hardest to meet the demands of our clients.  Even though it is not guaranteed what our custom department can create, we are always very clear and transparent about what is in our wheelhouse of expertise.